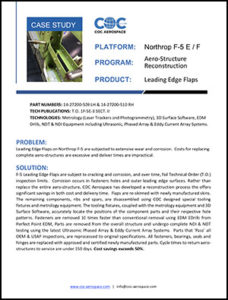 PLATFORM: F-5 / T-38
PROGRAM: F-5 Airframe Repair
PRODUCT: Aero-structure Repair
PROBLEM: Costs and time using traditional methods
SOLUTION: COC's Patent Pending Aero-Structures Repair System
Scanning aero-structures with 3D digital cameras with accuracy of +/- 0.005" over 30 feet.
Video Projecting Work Instructions directly onto work surface provides technicians with all the data required to perform the tasks.
Prevent errors, speed repair time, return aircraft to 'flight ready' up to 4 times faster with over 50% cost savings.